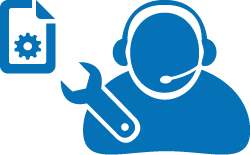 Ticket Support System
A Ticket Support System is one of the handiest ways to resolve any problem that may occur between you and your clients when it comes to online trading. Any dispute that may occur can be resolved in a very short time and with minimal conflicts.
Simply, sometimes the customers are not satisfied with the service, and if there is any kind of issue there is a need for a system that will help you to resolve the potentially unpleasant situation. The same stands for problems with the financial transactions and delivery.
Using a conventional mail system is not the best solution possible since these cases demand quick response and speedy resolution of the problem in order to prevent losing a client.
These are the reasons why IXXO Cart has one of the best and fully functional ticket support systems. It allows the instant notification and if there is any dispute filed by any of your clients you will be able to react the very same moment. You will get the notification by the IXXO Cart and you will have all the details on the dispute filed in a single message. This allows you to react without losing any time and to keep your client's trust. Once they see you are resolving any problematic situation they will be more than eager to continue dealing with you and that is of the utmost importance. The client's trust and their loyalty are the backbone of the successful online trading business and that should not be ignored.
So, to summarize, the ticket support system integrated into the IXXO Cart of any edition is a tool that will help you resolve any unpleasant situation in direct communication with your client. It will allow you to deal with the trouble in a very fast and very simple way so you can show the efficiency and care for the customer of the highest level.