Features Overview

Feature Details

Compare Features
So many features and so easy to use

Standalone, WordPress or Joomla
IXXO Cart is available in 3 versions that cover all the most popular ways of creating an ecommerce website.
Joomla - This version of IXXO Cart is available as Joomla component (2.5 and 3.x) and it is available in all 3 editions (Basic, Plus and Multi-Vendor)
WordPress – This version is available as a WP plug-in and it comes only as a Plus or Multi Vendor edition.
Standalone – This version of IXXO Cart doesn't require any third party platform as it has its own CMS and covers everything in terms of design and functionality. It is also available in Plus and multi Vendor editions.
All three Versions of the IXXO Cart are basically the same in terms of features and functionality and the entire difference is in the platform being used and the edition.
---
We offer the mobile optimized templates for all our products and this is one of the strongest points of our offer when it comes to visual appearance.

All e-commerce websites made by using our software are scalable and they will be displayed properly on any device, regardless of the screen resolution or the operating system your customers use. This will for sure keep them interested in your offer and they will not leave the e-shop only because they couldn't see properly what you have to show.

One website for both mobile and normal browsing
Provide a better user experience and increase usability
Increase your product reach


---
The shipping management features of the IXXO Cart allow you to use almost any shipping option that is available across the globe and to send your sold goods to almost any destination in the world. Within the shipping management options you have at your disposal:

Real-time shipping quotes from UPS, USPS, Canada Post, FED-EX, Australia Post
Ship items in one order to multiple shipping addresses
Mark-up or discount rates from supported carriers
Prints USPS shipping labels
Use Amazon FWS (Fulfilment Web Services) to manage your shipping
Set custom handling fees
Create custom shipping methods
Calculate shipping costs by weight, quantity, region and more
---
In cases when you have to deliver the goods from various sources to the single user the drop shipping is the feature that will solve all your logistic problems. This segment covers the following features and abilities:

Calculates shipping from multiple warehouses
Sends an automatic, customizable email notification to your distributor
Generates real time shipping rates
Unlimited drop ship locations
Ability to define shipping cost based on drop shipper location
Separates drop shipping products from other products in the order
Ability to assign drop shippers at the product level
---
The ability to sell directly on Facebook is more than important. This is the social network that gathers millions of people and it is one of the best ways to sell your goods and find your targeted audience. The Facebook Store feature of IXXO Cart offers you the following advantages:

You can sell directly on Facebook, without the need for your potential customers to go directly on your website
It comes with no additional fees and any user of the IXXO Cart Plus or multi Vendor has the option to sell directly on the Facebook
A single click is all that is needed to publish any product from your IXXO Cart inventory to Facebook
Publish any category from your cart straight in to your Facebook shop
Your facebook shop functions as a part of your existing IXXO Store
---
Build-in Ticket Support System
The ticket support system that IXXO Cart provides is the ideal way to solve all the disputes or pre-sale questions trade made over your ecommerce website. This covers the situations where one of the parties is not fully satisfied with the services provided, has pre-sale questions. IXXO Cart ticket system allows you to:

Solve any dispute the customers may have with your company
Have the real time insight in the problems that have occurred
Have disputes highlighted in the notifications area to ensure the momentarily response
Increase of the customers confidence based on the quick response
Escalate tickets to vendors
---
Loyalty of your customers should be rewarded. Not only that this is the right thing to do but it is also one of the best advertising techniques when it comes to online trade. Our online point system offers you the following features:

Conversion rate of points to currency is set by the merchant
Customer can select the number of points to be converted
Customer can review number of points available to be converted
Mail is sent every month to the customer with available points and expiry time
The merchant can remove or add points manually to the customer
Merchant can exclude products for receiving points
Merchant can award users with free points when they register
---
Accepting returns or exchanges is a necessary component of good customer service. Returning the products that are faulty or that don't meet the specified requirements is one of the backbone features of any successful ecommerce websites. The IXXO Cart RMA feature allows you to:

Automatically send the returned goods to the senders
Resolve the financial issues with the suppliers
To retain existing customers and encourage new customers
Reduce costs for processing product returns and lessen its impact
Designed for any type of vendors - Manufacturers, Distributors, Suppliers
---
The Amazon Web Services are more than a necessity when it comes to the online trading. Simply said, the Amazon is so big and has such coverage that their services can't be ignored if you wish to conduct a successful online trade. Amazon FWS is available within the IXXO Cart package and it allows usage of all its features through a very simple online tool. The basic services of the Amazon that IXXO Cart offers in its services package include:
Inbound Services – This covers the shipping and storage of your goods within the Amazon FCs
Outbound services – This allows you to ship your goods using the Amazon FWS
Inventory services – This allows you the tracking of all the goods you have in store and the real time update of the stock
Functionality – As these services have the real time update capabilities, you will have the full control of each segment of the trade, from ordering to shipping
---
Since the most of the modern ecommerce websites are much more than the simple trading platforms, you need to keep the pace in terms of multimedia presentation of your products. The IXXO Cart media module offers you the chance to:

Showcase and sell your music and videos
Allow your users to browse, play and purchase music
Create a seamless site using Joomla! or WordPress
Customers can browse your media in categories or by using the built-in search functionality
Preview music and videos with the easy to use built in media player
Users can purchase and download individual tracks or full albums
Fully integrated with IXXO Cart and so uses the full feature set including checkout and payment gateways
---
The payment gateways are more than an important feature. Simply because, some countries offer certain options while the same are not available in the next country. This is why it is important to have them all covered within a single ecommerce website.
IXXO Cart integrates with most of the Major Payment Processors and handles all technical part of the integration with all payment gateways that are supported. This means that if you want to receive payments through any payment gateway you have to get a merchant account with them first. After you get the merchant account credentials all you have to do is to add these details in your IXXO Cart backend payment gateway settings. That is all there is to it and you are ready to receive online payments.






| | | | |
| --- | --- | --- | --- |
| PayPal | Google Checkout | AuthorizeNet SIM | Authorizenet AIM |
| PaypalPro | PaypalPro UK | PayPal Adaptive | Chronopay |
| Datacash | DIBS | ECHO | Fast Transact |
| HSBC | iTransact Inc. | LinkPoint | Moneris |
| NETbilling | NTPNow | protx | PSiGate |
| Shift4 | WorldPay | Transaction Central | VeriSign |
| ViaKlix | YourPay | VersaPay | Bank of America |
| ClickandBuy | Barclays ePDQ CPI and MPI | Metacharge | ANZ eGate |
| Payflow | Payjunction | Authorizenet Reccuring | AuthorizeNet eCheck |
| Emporiki Bank | USAePay | SkipJack | AliPay (China) |
| WinBank | Eurobank | DIBS | Amazon FPS |
| La Caixa (cyberp@pac) | NetCash (South Africa) | BBS Netaxept (Norway) | protx Direct |
| Paypal Reccuring | SagePay | Moneybookers | Plugnpay |
| Beanstream | Buckaroo | Sage Payments | VCS Payment |
| eWay UK | eWay New Zealand | eWay Australia | Total Web Solutions |
---
The problem with multi vendor ecommerce website and the distribution of the money from the single order can be easily solved with the PayPal adaptive payments that is already integrated into the IXXO Cart multi Vendor edition. It offers the following features:

Pay anyone with an email address
Recipients without a PayPal account can create one in minutes
Receive payments from anyone
Customers, with or without a PayPal account, can make a payment as long as they have an email address
Chained payments. Send a payment to one individual, who in turn shares the payment with multiple individuals.
Split payments. Divide a payment among a number of individuals
Retrieve Foreign Exchange rates. Send a list of amounts and currencies and get the converted amounts for the requested currencies
IXXO Cart supports both PayPal Adaptive Chained, Chained Delayd and Parallel Payments
---
Besides the SEO and SMO, the paid marketing is the most important tool in expanding your online trading business. In the modern world of online trading there can be hardly any success without paid marketing campaigns. The IXXO Cart offers the following:

Google – The main tool that is available on the web is the Google AdWords and the IXXO Cart allows you to use the Google advertising within its system
Facebook Store – The tool that will allow you to trade on the biggest social network there is and with no additional fee at all
StoneEdge – The feature that will help you manage the entire process of the online trade
Shopzilla – One of the most potent online sources of customers. You will get the access to it by using the IXXO Cart
Pronto Shop – Same as Shopzilla, it allows you the access to millions of potential customers
iDevDirect – A software that allows you to track the shopping process from the very beginning to the very end
Dollar Days – This feature gives you the access to the sales aimed at the US market
Widgets - Embedded widget tool to make any blog or site into an e-commerce enabled site using dynamically created code snippets
---
One of our primary design goals is to facilitate the separation of application code from presentation. Typically, the application code contains the business logic of our application, written and maintained in PHP code. This code is maintained by programmers. The presentation is the way your content is presented to the end user, which is written and maintained in template files. The templates are maintained by template designers.

At its most basic function, the application code collects content, assigns it to the template engine and displays it
---
Template Design (Storefront)
IXXO Cart gives you complete control over the design of your storefront. If you're a beginner and don't understand coding, just head straight to the "Appearance Settings feature. This module will assist you in creating a professional design without any HTML knowledge. Add your logo, add images to your store, add products to your home page, change layout, colors, boxes and more.

IXXO Cart comes with over 200 different sets of design options to give you virtually unlimited design possibilities. Additionally this area allows you to easily create and design more pages to add to your site
 Explore IXXO Cart Features
Transform your website into a selling machine with all the tools, features, support and technology required to create, promote, trade and grow your online business. The trusted ecommerce platform for thousands successful online businesses around the globe.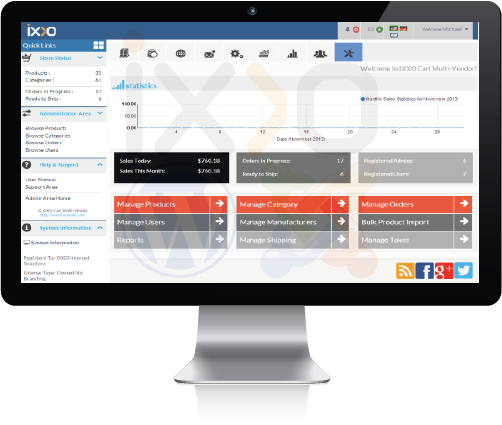 Manage your products and design with ease

Manage your orders in a snap

Get better rankings with built-in SEO

Stunning mobile optimized ecommerce templates to boost your sales

Responsive admin dashboard to manage your store on the go

Integrated with the most popular payment gateways and shipping carriers

Sell on facebook with the "IXXO Cart Facebook Store" module

True Multi-Vendor to allow multiple vendors sell through a single store

Vendors can manage their store through the frontend

+500 built in features all included

Integrated with the most popular CMS Platforms (Joomla and WordPress)

One Page checkout with guest registration

Predefined Product Templates database for vendors

Integrated Ticket System for high quality support

Advanced Administrator Privileges, logging and site access permissions
Design & Template Engine
Responsive admin area and mobile optimized frontend
Google fonts
Addition of custom content pages via administration interface
Option to set store in catalog mode (checkout option disabled)
Create buttons & headers and upload them via the control panel
Add custom modules to create advertising areas
Upload YouTube videos, flash presentations and other multimedia files

 

Create slideshows
Display navigation help, if no products are available in a category
Display subcategory products in primary category
Image Style for Secondary Images (carousel, carousel thumbs)
Add custom content to your cart homepage
Display Social Network Share Buttons on Product Page
Mobile Ready

---
Search Engine Optimization
Site map generation
Generation of HTML catalog of static product and category pages
Custom meta keywords for product, category and content pages
Search Engine Friendly URLs (True flat URL generation)
Automated title, keyword and description tag generator

 

Google™ Site Map support
Robots.txt files supported
Creates "Breadcrumb" navigation
Option to upload customized HTML pages to assist in search engine positioning

---
WordPress and Joomla editions
Option to choose the IXXO Cart template CSS or the joomla template CSS
Generate additional Joomla breadcrumbs
Use  joomla plugins in IXXO Cart product descriptions
Use any Joomla or WordPress Template

 

Option to use the Joomfish language selector to change the storefront language
Joomla Article Hotlinks (if a joomla article is selected for a product, a hotlink will appear on the product's detail page)
Add product descriptions and "add to cart" buttons to any joomla article
---
  Customer Relation Management
Customers can view previous orders, status and shipping tracking information
Customer address book
Allows customers to create wish lists
Send product newsletters to your customers
Send product update notifications to your customers
Saved Cart feature allows users to save multiple carts to purchase items later
Automated e-mails when customer creates order and order is shipped
One-Page Checkout feature - Fastest checkout available on any cart
Add custom fields to the checkout form for collecting additional customer information
Loyalty Point System 

 

Guest Checkout - Allows customers to checkout without creating an account
Supports backorders
Full customer reporting
Hide product pricing to all but registered customers can view prices
Create "Customer Groups" and modify pricing by groups and at product level.
Assign customers to different Group levels
Search by last name, username, phone number, email or company
Customers can subscribe to Email Updates
Customers can subscribe to Email Newsletters
Option to enable the "Product Returns" feature (RMA)
---
Localization
Translated into 22 languages (front end)
Translated into 7 languages (admin area)
Easy addition of new languages
Option to add / edit / delete language templates
Option to add / edit / delete countries, states, providences or regions
Language specific categories
Language specific products
Language specific content
Allows customers to view in their currency, but transact in yours.

 

Configurable weight units
Configurable length units
Configurable currency symbols (multi currency support)
Configurable list of countries/states/provinces
Option to switch date and time formats (Local Time/Date Format)
Real-time currency exchange rates update (Currency exchange rates uses European Central Bank rates)
Country specific products (option to choose in which countries products will be available for sale)
Set-up custom exchange rates
---
Product & Category Management
Unlimited number of products and categories
Unlimited subcategories
Password protect categories
Support Image Magnify and Image Zoom
Layered navigation allows customers to sort products based on price, manufacturer or category
Ability to control product and category order
Export products to Google Base
Ability to duplicate products
Show retail, wholesale and sale prices depending on the product
Supports both detailed and summary descriptions by product
META keyword and description for each product and category
Add "sale" image to the product
Ability to control which products appear on the home page
Select from a number of different product / catalog page layouts.
Supports tax exempt products
Ability to allow only logged in customers to view pricing
Inventory tracking by product and attribute

 

Receive inventory alerts if quantity drops below pre-determined levels
Supports attributes (color, size, etc.) by product, or create a Global Attribute and simply assign the attribute to a product
Change price or shipping weight based on attributes
Create editable custom fields by product. This feature is perfect for products that require personalization.
Use HTML in product descriptions
Products can reside in multiple categories
Ability to change product / category order
Enable / Disable products
Supports manufacturers
Upload a manufactures logo which can displayed on the product page
Manage sales pricing
Supports Minimum/Maximum quantity in order by product
Complete control over image and thumbnail sizes
Supports downloadable products
Manage products in bulk using MS Excel / CSV
Import / export products using csv form
Ability to specify an expiration date for a product
---
Payment Gateways
Supports eChecks Ability to store credit card information for off-line processing
Ability to accept credit cards on-line
Ability to accept payments via telephone, mail, fax
Ability to set unlimited custom payment methods
Ability to make payment page secure or entire checkout process

 

Ability to store credit card information for off-line processing
Ability to set unlimited custom payment methods
Export data to QuickBooks™, Peachtree™ or other accounting programs
Sell in multiple currencies
Ability to receive donations using the donation feature
Paypal, Paypal Adaptive, Google Checkout, Buckaroo, AuthorizeNet SIM, PaypalPro, PaypalPro UK, Authorizenet AIM, ECHO, Chronopay, Datacash, DIBS, Emporiki Bank, Eurobank, WinBank, Fast Transact, HSBC, iTransact Inc., LinkPoint, Moneris, NETbilling, NTPNow, protx, PSiGate, Shift4, TransactionCentral, VeriSign, viaKLIX, WorldPay, YourPay, Bank of America, VersaPay, ClickandBuy, Metacharge, Orbital, SkipJack, USAePay, Payjunction, Payflow, ANZ eGate

---
Order Management
Ability to "status" orders
Add / edit / delete orders
Ability to create an order for a customer through the admin area
Create custom status to help with your internal order management
Displays both order and payment status to assist with order processing
Bulk edit orders
Notifies customer when order is shipped
Create professionally printed invoices
Integrates with StoneEdge Order Manager, Atandra and T-Hub to assist with order processing

 

Add shipping tracking numbers to orders
View abandoned orders
Ability to add notes to an order
Print packing slips and invoices
Ability to enable the "Product Returns" feature (RMA)
Set starting order number
Abililty to bulk status orders
Backorder / pre-order feature
---
Product Attributes
Gives you the ability to sell items like computers, shirts or other items that contain options
Create unlimited product attributes (options)
Add or subtract pricing based on attribute selection
Add or subtract pricing weight based on attribute selection
Instantly adjusts price based on selection
Control inventory by attributes
Track administrator-defined combinations
Sell only administrator-defined combinations

 

Create global attributes that can be assigned to products or categories
Display attributes on cart page, invoice and on order
Receive "low stock" warnings based on attribute combinations
Ability to remove attributes instantly
Create drop-down, radio buttons, text or text fields for attributes
Assign priority to attributes
Create attributes (size, color, etc) and manage price, weight, inventory on attribute
Create dynamic tree attributes with image support
Ability to disable specific product attribute combinations
---
Product Merchandising
Sell both physical and digital products along with services & subscriptions
Sell your products on Facebook
Integration with MailChimp
"Products you may like" tool
Price alerts (users can specify a price and be notified when the product price reaches the price they added)
Report with users who added a price alert (ability tooffer them the requested price without changing the product price)
Global or product level promotional codes
Ability to create product types (product groups)
Weight based pricing (users can specify the product's weight and the cart will calculate the price)
Product comparison (visitors can add product to compare)
Create Product Families
Ability to set-up price filters (view products in a specific price range)
Control the number of times a digital product is downloaded
Sell any kind of digital products including pdf's, videos, music files, etc.
Sell Gift Certificates
Create custom fields (allow customer to input text)
Create drop down selections, check boxes and more on product pages
Provide discounts based on number of items ordered (quantity discounts)
Product Reviews
Supports the ability to add items to the cart from pages outside the cart application (widgets)
"Call for pricing" and "catalog only" mode supported

 

Newsletter tool
Customers who bought "x" also bought these products in the checkout areas.
Supports discount / coupon codes globally and at product level
Supports discount / coupon codes for shipping
Price-based discounting
Supports full product descriptions with HTML and product summaries
Create and assign manufacturers to products
Ability to control the product image size on both product and catalog pages
Recommended products
Customer wish lists
"Tell a Friend" feature
Hot Deal feature
Create "Buy x, Get y Free" discounts
Best Sellers area
Top selling products
Brand (manufacturer) landing pages
Export products to Google Base, Yahoo, ShopZilla.com and more
Compatible with iDevAffiliate and other third-party affiliate programs including Linkshare, ShareASale, ClixGalore, Commission Junction and more
RSS Feeds
SMS notifications, order placed, payment, received, order shipped and more
Customer loyalty point system
Veratad integration for dentity and Age Verification
Global sale prices (example - 10% off entire store)
Option to display Social Network Share Buttons on Product Page
Deposit Feature (This feature allows you to specify which products will not be paid fully during the checkout. The amount that will be paid by the user will be the percentage specified by the admin)
---
Shipping & Taxes
Real-time shipping quotes from UPS, USPS, Canada Post, FED-EX, Australia Post
Ship items in one order to multiple shipping addresses
Mark-up or discount rates from supported carriers
Prints USPS shipping labels
Set custom handling fees
Create custom shipping methods
Calculate shipping costs by weight, quantity, region and more
Offer free shipping
Offer product specific shipping pricing
Ability to restrict shipping based on country or state / providence
Manage shipping rates based on country and shipping method
Shipping tracking from UPS, USPS, Canada Post and Fed-Ex
International shipping supported
Supports downloadable (Digital) products
Quick "Estimated Shipping" calculation - Customer can quickly estimate shipping based on zip code before checking out
Advanced or simple tax features
Configure state-based tax
Configure country-based tax
Configure zip code based tax
Assign tax rates to individual products

 

Ability to set tax by zip code, state, city and / or country
Supports advanced tax structures including VAT, Canada, USA, product and/or category tax and more
Provides customer with the option of selecting from multiple methods from multiple shipping providers
Ability to include tax with price (VAT)
Set-up an unlimited number of tax structures and rules
Assign tax rates to individual products
International shipping supported
Supports downloadable (Digital) products
Quick "Estimated Shipping" calculation - Customer can quickly estimate shipping based on zip code before checking out
Advanced or simple tax features
Configure state-based tax
Configure country-based tax
Configure zip code based tax
Ability to set tax by zip code, state, city and / or country
Supports advanced tax structures including VAT, Canada, USA, product and/or category tax and more
Provides customer with the option of selecting from multiple methods from multiple shipping providers
Ability to include tax with price (VAT)
Set-up an unlimited number of tax structures and rules
---
Wholesale and Drop Shipping
Supports up to three different levels of wholesalers
Allows you to set wholesale pricing by product or as percentage of retail price
Apply different tax rates for wholesalers and/or make their purchases tax free
Unlimited drop ship locations
Abilty to define shipping cost based on drop shipper location

 

Drop shipper is notified of an order
Separates drop shipping products from other products in the order.
Edit email notifications to drop shippers
Ability to assign drop shippers at the product level
Supports case pack / inter pack pricing
Collects Tax ID, EIN or any custom information you require
Add your own internal Wholesalers you order your products from. (These Wholesalers are NOT identical to the wholesalers who buy from your shop)
---
Inventory Tracking
Product-level inventory tracking
Attribute-level inventory tracking
Set "low stock" notifications by product

 

If inventory goes to zero, you have the ability to remove product from catalog or show "out of stock" message
Control when inventory is removed (at purchase or order complete )
Completely automated inventory control
---
Checkout & Registration
Ability to complete orders without registering (Guest Checkout)
Select between One-Page Checkout and traditional checkout
Allow customers to decide if they want to create an account
Set minimum number of items or amount
Set order numbers

 

Mandate users to agree to Terms and Conditions
Ability to enable Suggested Products feature on cart page
Create custom fields throughout the entire checkout process (ex. How did you hear about us?)
Ability to control which fields are required / optional
---
Import & Export
Export products to Yahoo, Google Product Search, Shopzilla, Altura, pronto and others
Import products using our flexible bulk product loader
Manage import rules
Overwrite existing data
Add new / keep existing data
Clear existing / add new
Update existing products only

 

Bulk load images through the control panel or via FTP
Export orders / products / users
Select the fields you want to export
Back-up / restore cart from the control panel
Database management tool allows you to clear log files and more
Seamless integration with Stone Edge Order Manager
API allows you to export orders / customers and many more (access to authorized third party developers only)
---
Content Management
Add additional pages directly from the control panel ( Contact Us, About Us, Return Policies, etc)
Easy to use WYSIWYG editor allows you to completely manage the appearance of your pages
All additional pages are SEO-friendly

 

"New Items" feature
Easily add areas for promotions, banners or even Google Ads
Ability to edit all emails sent out by the cart
---
Reporting & Analytics
Seamlessly integrates with Google Analytics and Google Adwords tracking tools
Top Viewed Products
Orders by Products
Top Viewed Categories
Pending Orders by Products
Users Activity Report
Top Referring Sites
Sales by Customer
Payment Types (Shows purchase statistics by payment type)
Consolidated Orders By Date (It includes subtotal, tax, shipping, discount, and total amounts for each day)
Export any report to excel 5 and pdf

 

Individual Orders By Date (It includes subtotal, tax, shipping, discount, and total amounts for orders)
Pending Orders
Sales by Vendors (This report shows overall sales performed by vendors)
Vendor Payments ( This report shows overall vendor payments)
Revenue Report
Inventory Report (This report shows the overall inventory per vendor or for all vendors)
Promo Codes Usage Report
Sales by Countries (This report shows overall statistics for completed orders with received payment, grouped by country. It includes subtotal, tax, shipping, discount, and total amounts for orders)
Unique Visitors by Host (This report shows the unique visitors of the shop for the selected period, sorted by last access date. It includes hostname, ip-address, country, first access date and last access date)
---
Security
Full support of HTTPS/SSL protocols
Password protected administrative area
Locks account after set number of failed credit card attempts
Ability to control administrative access and set access levels
Give you the ability to display prices only to customers that have registered
Allows for database and application to be separated

 

Locks out administrators and users after too many login failed attempts
Ability to unlock administrators accounts through the control panel
Lock out visitors after too many failed transactions
Secure control panel access
Full support of SSL protocols
Ability to enable captcha for all contact and registration forms
---
Administrators Management
Create unlimited administrator accounts
Restrict access to particular features by administrator
Control which e-mails are received by administrators

 

Multiple administrators logins
File Manager allows you to edit templates from the control panel
Read More
Compare IXXO Cart Editions
Compare the different editions for the licensed version of IXXO Shopping Cart below.
If you have any questions about IXXO Cart features, please contact us
Available as Joomla Component (2.5 & 3.0)

Available as Wordpress Plugin

Support for downloadable goods (e-goods)

Multi-language admin and storefront

Search Engine Friendly Urls (SEO)

Marketing and promotion tools

Unlimited products and categories

Products can be assigned to multiple categories

On Sale" and "New Arrivals" lists

Unlimited number of product images

Product thumbnail generator

Manage products in bulk using MS Excel / CSV

Taxes & shipping fees depending on client

Real-time shipping (USPS, UPS, FEDEX, Canada Post)

Flat rate, weight, order total and per-item based shipping

Different weight limits for different delivery methods

Designate select products as "free shipping" products

Define handling/freight charges

Handle international, domestic and local shipping

Featured, cross-sale & related products

Product options and product option combinations

iDev Affiliate integration

Export newsletter subscribers

Import newsletter subscribers

Check Bounced Email Addresses

Compatible with 82 payment gateways

PayPal and Google Checkout suport

Authorize and capture transactions

Form CAPTCHA to reduce bot spam

Full support of HTTPS/SSL protocols

Multiple pricing options based on membership level

Password protected categories

Inventory tracking by product and or attributes

Product custom properties

Calculate taxes based on zip code or city

Ship items in one order to multiple shipping addresses

Shipping discount coupon codes

Amazon Merchant Services (FWS & FPS)

Loyalty Point System (frequent buyer reward system)

Media Module (with song preview player)

Australia Post real-time shipping

Unlimited custom input fields for products

Order partial payment option

Multiple administrators with different privileges

Like, Tweet and Pin buttons for sharing products

Printable shipping labels

Google Analytics and Google Base

Multiple sellers, all selling through one store front

Unlimited Number of Vendor Accounts

Split payment between vendors and store owner

Separate admin panel for vendors

Vendors can use own shipping methods

Vendors can use own tax methods

Option for global shipping for all vendors

Vendor default privileges

Commission statistics & reports

Vendor payments management

Approve products before published

Vendor specific categories

Limit product number on per vendor basis

Products from Multiple Vendors in One Order

Predefined products for easy input

Vendors to manage their store from the frontend

Pre-approve products before published
Read More