Drop Shipping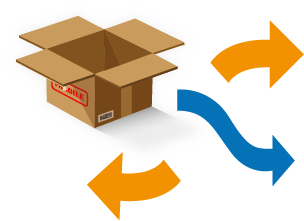 Does your product gets shipped from multiple distributors? The drop ship feature allows you to calculate shipping rates for products from multiple warehouse locations. If a customer purchases products that are shipped from 2 or more locations, IXXO Cart will calculate all the correct pricing so your shipping rates are 100% accurate. Moreover, you can customize the cart so each distributor gets notification with an itemized list of each product that needs to be shipped out...
The Drop Ship feature:
Calculates shipping from multiple warehouses
Sends an automatic, customizable email notification to your distributor
Generates real time shipping rates
Here is how online business works by using drop shipping:
Customer places an order on your website
You collect the payments
You forward the order to your dropshipper(s), pay the costs of goods
Your drop shipper(s) ship the order to your customers
You keep the difference between retail price and wholesale cost as your net profit.
How do I get into drop shipping?
Set up IXXO Cart and enable the drop ship feature.
Find wholesale suppliers of products you wish to sell that incorporate drop shipping as a business method.
Open an account with the company.
Gather content and images relating to the products you've chosen, incorporate them on your site and shopping cart.
Collect the order and payment from your site.
Provide the supplier with the customer details.
The company then bills you at the special price you have agreed upon; fulfills the order and sends it to your client - in most cases with labels referring to your business/web site instead of the dropshippers
How do I find drop shipping suppliers and companies?
There's a couple of approaches you can take to find suitable dropship wholesalers:
Direct contact
You can contact wholesale suppliers directly who produce/stock goods of interest and inquire about a drop shipping partnership; although you should be a little cautious, especially if the company hasn't been involved in these kinds of partnerships before.


Search engines
The other way to go is to hit your favorite search engine and search on the terms:
"drop shipping" + product of interest or dropshipping + product of interest or "drop ship" + product of interest or "dropship" + product of interest


Ensure you encapsulate in quotes where indicated above to ensure the results you get are the most relevant.